If you're new here, you may want to start with Our Consulting Problem and maybe our FAQ and if you like what you see you should totally subscribe to receive new posts via RSS or email in the box on the top right. Thanks for visiting!
Success!!  I think we've mentioned in some of our other posts that our dining experience in Buenos Aires has been a bit hit-or-miss thus far.  We've been to a few restaurants that are great, and just as many that are mediocre (as well as one or two we wouldn't let our dog eat at, if we had one).
Today, after a long morning of getting our heads back into Spanish class after a weekend off, we were starving and headed over to Palermo Hollywood to check out a Mexican restaurant we'd heard was good (Taco Box – it was closed, so we'll have to give it a try another time).  By the time we walked the 30 minutes there from our school, we were starving and quickly ran into Miranda.  Every table on the sidewalk was full, and they had a decent lunch special, so we thought we'd check it out.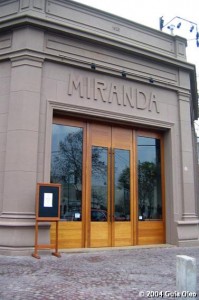 Our server initially only gave us the regular menu (which didn't include the special lunch set menu) – not sure if this is because he was trying to up-sell us or because it's the only menu in English – we're giving him the benefit of the doubt and assuming the latter.  Once we asked for the daily menu, it took us no time at all to choose from the multiple options offered (did I mention that we were starving?).  We each had impressive appetizers (yay chorizo!), big main plates (chicken and veggie skewers for me, steak sandwich for Ryan), drinks and coffees for 90 pesos (~$23 US), including tip.  Just to put that in perspective, one of the aforementioned restaurants we wouldn't let our dog eat at cost us closer to 150 pesos (~$40 US) - granted, that was dinner, but Miranda was far better in terms of ambience, food quality and service.
All in, Miranda is a winner in our book.  We'll definitely be back again to take advantage of their great lunch deal and plan to put it in our dinner rotation as well!